Shop for Cars, Australia's first Car dealership only classified has released an innovative and revolutionary finance module that speeds up and limits costs for car buyers.
Through Partnership with Vroom, Shop for Cars offers car buyers the unique opportunity of applying for finance directly on the car listing that they are interested in. What makes this release so exciting is car buyers can scroll through different finance options from over 60 lenders and choose the cheapest option that is right for them – removing the need to shop around or use a broker.
Shop for Cars Managing Director Julie Peksis said "It is such an exciting time to be a car buyer in Australia. Since the Royal Commission in 2019 Car Finance has changed dramatically. Now, using Shop for Cars, Car Buyers can remove the middleman i.e., a broker, and get the absolute cheapest and best rate available."
Car Finance in Shop for Cars puts the power back in the buyers' hands. Buyers can apply and receive approval from a selected lender in under 10 minutes! On top of this certain lenders available offer finance and money in the bank within 60 minutes which means customers can drive out with their dream car the day they visit.
The biggest benefit of Shop for Cars finance is convenience. Car buyers no longer need to shop around from lender to lender to find the cheapest rate. All the best lending options based on your lending capacity are centralised on the vehicle listing that you are interested in.
How it works
Everything is done directly on the vehicle listing that you are interested in! Get direct access to over 60 lenders and choose the cheapest rate.
1. Find your vehicle
2. Submit your details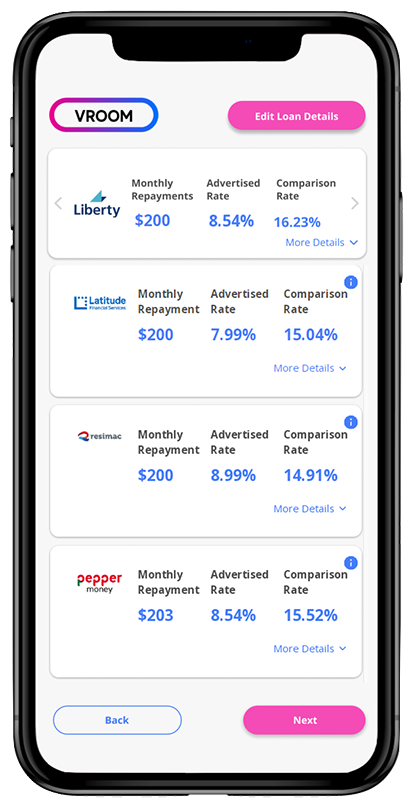 3. Pick your loan
4. Instant Pre-approval
Finance provider Vroom is one of Australia's leading and largest automotive lender marketplaces offering over 60 leading lenders for car buyers to choose from. Vroom finance has no hidden fees. No impact on credit score and a simple finance application process with over 80% approvals.
To learn more about Vroom visit their website here: www.driveon.finance/vroom
Shop for Cars finance is about to change the automotive industry. Through partnership with Vroom, Car buyers now have the fastest, easiest, and cheapest lending option available in the market.
To learn more about Shop for Cars Finance visit: www.shopforcars.com.au/car-finance
About Shop for Cars
Shop for Cars is Australia's first car dealership-only online classified. Shop for Cars gives buyers the choice of the best quality new and used vehicles from trusted motor dealers Australia wide. Shop for Cars currently has over 12,500 cars listed for sale all from licensed Motor Vehicle Dealers ONLY.
Start your search for a new car today! Visit www.shopforcars.com.au.